REFERENCES

Here are a few comments and pictures from customers that have built our Procut Portable Sawmill. I value all my customers privacy so there is no contact information or email included.
Steven from N.S.W. Australia:
I would like to thank you for designing and making available the Procut sawmill plans. The prompt mail service was much appreciated. Working evenings and on weekends the Procut took no time at all to build and having used it for several months now the sawmill operates beyond my expectations. I followed the plans throughout but I made a few changes to the measurements. The Total length of the bed is just under 25 foot and the width of cut is 26.5 inches. Power comes from a Husqvarna 3120 and with a sharp chain leaves a very smooth cut. Once again thanks for the plans.

Also attached are several photos.(See "Mill Pictures")
---
Isma from Finland:
I built your procut from your plans and it was very easy. I had to convert to metric but this was not to bad to do. I must say it cuts really good lumber, smooth and very precise and i am up to 6000 feet so far with no problems. I only wish i had found your website sooner, it certainly would have saved me a lot of time.
---
Nada from Germany:
What can i say, i love my Procut and it has saved me a lot of money these last few weeks. I also made quite a bit of spare cash cutting some big beams for friends. I built Procut 50ft long for making my bridge timbers over a stream to my cabin, i cannot imagine what they would have cost me to buy. I want to thank you very much for all your kind help and advice you gave me while i was building Procut, especially since i wanted it so long.
---
Nashta from Russia:
Excuse english but your procut very good. Make lots of lumber, very even. Makes good for building and have 2 barns and cabin build. You save me many money here in Russia. Thanks you.
---
David from Malaysa:
Thanks for all your help Allan as i did not think i could build something like this. Finally finished your sawmill and learnt how to weld to boot from your plans, just great. I have already cut 1000 feet of 2"x 10" using a 3120 and i must say what a treat, as the lumber is very square and pretty smooth. I cannot wait to get into my larger logs and cut some big beams i need. I built Procut on the cheap with some spare steel i had and new also, still i have no idea where anybody could get a sawmill like this with so little money out of my pocket. My family and i were devastated to learn about Brenda and feel for you and Heather, and if there is anything we can do to help we are always here for you.
---
John from South Africa:
As you know i spent a lot of time on the net searching and reviewing sawmills, i took your advice and went through just about all of them comparing costs, freight and capabilities, what a lot of time spent. In the end receiving your plans and building Procut became the best decision i have ever made. As a missionary i have to watch costs and i want to thank you very much for your generosity, not only in the donation of the plans but all the advice you gave me. The village here is now cutting lumber and beams and making some income where they had no hope of this before. Considering we are cutting very hard mahogany i was pleasantly surprised at how smooth and accurate the lumber came out, this was a concern as we sell the product to a building supply. It was a very special pleasure dealing with you from such a long distance, we all in the village thank you very much and may God be with you as i am sure he is with Brenda now.
---
Jan from Poland:
Just great!!! it is all finished and have cut for a week and it is all just perfect, no problems at all. I cut these monster 20" x 16" beams and a whole bunch of 2" x 12" lumber and all came out very smooth and perfectly square. This is the most fun and cheapest thing i have built that has given me such a quick return like this, as all of the above was done within 2 weeks. Your plans are a really easy to follow unlike some i have bought before and i just wanted to thank you.
---
Novak from Sweden:
Hello again Allan. Thanks for all the help this past year and thanks for being there long after the business end of actually buying you plans. Taking what you said for me to do i had a comparison cut off with a friend of mine that has a Logosol mill and beat him hands down. Procut is far easier to load logs using your idea of the brow logs and once i was in such a hurry to load a log i dropped one end off the pile and it landed on the mill, it just bounced off, i just laughed and told ivan that if he had done that with the Logosol it would have been game over for his mill. Granted i am using a 3120 chainsaw and he can only use an 066, but the whole idea of Procut just seems better, especially having both ends of the sawbar supported. I have just finished cutting for the winter and so far i have cut 60,000 board feet in all sizes and all were right on the mark for sizing and being square. Great job Allan and i am eagerly waiting for the plans for the solar kiln when you have them finished.
---
John from Quebec:Thanks Allan, you saved my dream of building a timber frame home. I had searched the net extensively for a sawmill I could afford but they were all to expensive for my budget, until I came across your site. I was going to purchase the Alaskan sawmill but after you told me to reasearch this carefully, I found that it was very expensive for what you get, basically just an aluminum attachment. I ordered your plans and built Procut for under $700 and I am so glad I did, what a heck of a difference between the Alaskan and Procut, there is no comparison at all. I now have a full length steel sawmill for just about $400 more. I built your Procut as a set in place sawmill and I have cut my first beams ( 12" x 12" ) and they are just perfect. Thanks for the help on my old chainsaw, it is now running perfectly it saved me buying a new saw. You have fantastic customer service and I will be a repeat customer of any other plans that you put out, especially the solar kiln when you have that ready.
---
Dave from Alberta: Built your procut and it is just what I wanted. It cuts smooth, accurate lumber and beams and it does not cost a fortune. Way to go, I am a very happy sawmiller.
---
Musap from NWT: Allan I want to thank you for all your help on how to get my Procut to my isolated village. The ski runners worked perfectly and we towed the sawmill up the frozen lake with no problems and we had it loaded down with supplies. I wish I had all your knowledge and experience, life would be much easier up here in the frozen north.
---
Jamie from Ontario: I purchased the Procut sawmill plans from you earlier this year. I made some changes and I now can cut logs as short as 40" all the way up to 21ft for my timber frame home. The cuts are true and very little measuring is involved when sawing. Your plans were very easy to understand, with the exception of the photo's for the log dogs, which you explained to me on the phone. I am very pleased with the Procut sawmill and you definitely have a satisfied customer.
---
Doug from BC: Allan it works just great, you have saved me a great deal of money and my log salvage business. Without your idea of building Procut with removable log bunks I would have been out of a good part time job that brings in a lot of extra money. I now pull in the logs behind the boat into a bay that has a boat launch, back down Procut into the water and float the logs on and take them home to saw. I want to thank you for all the emails, phone calls, and help you have given me over the past year, you are one of a kind. Me and my family are praying for Brenda's recovery. God Bless
---
Brian in PEI: I just wanted to let you know that you did an excellent job putting together your sawmill plans. It was one of the easiest to follow I have ever done. I have purchased several plans over the years for different things and none came close to being as good as yours. I built Procut in 22 hours, but I put dual axles under it so I can also use it for the trailer with your sectional deck, but dont worry, I took your advice and I have not overloaded it as I do understand that it is a precision sawmill first. I just use it to get lumber to my site for building. Speaking of lumber, I must say I was very surprised at how really straight and square the lumber came of the mill. I put a square on the first few boards I did and they were absolutely square and really quite smooth. It was a pleasure to build with, unlike some of the boards I have purchased in the past. I noticed in your updated website that you will offer solar kiln plans next year, I will be your first customer, as it was a pleasure to do business with you.
---
From N.H.: Allen, I will be glad to be a reference for you and a help in any way I can. I have told friends of mine that I will be building a chain saw, saw mill and they say that they cant wait to see it when it's done, I will make a promise to you that if any of them ever want to build there own they WILL purchase there own set of plans from you. Allen your a special kind of person, I really didn't think that you would of just sent me another set of plans but your act of kindness shows that there still are good people left in this world. IM quite sure you will hear from me some time in the future. Again I will be honored to be a reference for you. Thank you & God Bless Bruce
---
From M.N.: Allan, I forgot that I had cut this thin piece on my first day being a "sawyer" with my Procut. It is about 1/4" thick, 8-10" wide and a little over 8' long. It pays to set-up the mill as you descibe. Not bad for a rookie eh! Steve (see pictures below)
---
From N.B.: Hello Allan, Regarding building a mill for sale, the set price of $250 sounds very fair to me. I was sawing some hardwood today. The mill cuts much more accurate lumber than the band saw mill I borrowed in the past. And I know from experience I would have changed several bands by now. And I am not peeling the bark off the logs like I had to for the band saw mill. But my logs are clean, I cut them last winter and put them up on skids. The saw doesn't seem to smoke any. However, I have Husqvarna mixing oil, so will go to the 50:1 ratio to see if it starts better. Wayne
---
From V.A.: Hi Allan, just thought you'd like to see a picture of what we've (finally!) produced with the sawmill - attached is a picture of the barn-raising day that we had just a week ago. All oak beams, all from our land and all milled with a Procut sawmill. Can hardly wait to get started on the next project! Thanks again, Mike
(see barn below)

also From Michael Schmiedicke: The mill we built off your plans definitely fit the bill - it was great to work with and even an amateur like myself figured things out pretty quickly. For squaring up big timbers like we were it was perfect. There is no way I could have afforded the cost of having someone produce timbers like that for me, so it was a key component of this project. Thanks again! Mike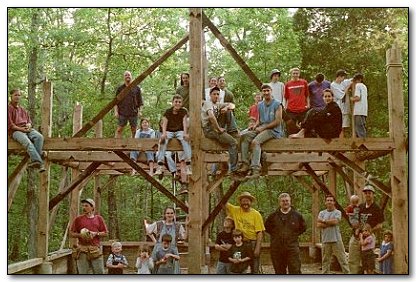 ---
David from Texas : Hello Allan. Thanks for all the info you have supplied me over these last few months. I received your plans and must say I did not think they would be so easy to use. I have built Procut and it came out really good, cuts accurate lumber and I am up to 4000 board feet so far. With some steel I had around and purchases I came out at $620, not bad at all.
John from Oregon : Dear Allan. Taking your suggestions and advice I built Procut from the plans but not as a portable sawmill. I used a mobile home frame we had sitting around and cut it down to the correct width. I did have some problems, but thanks for the help getting by them and I must say itdoes produce really nice lumber. Any plans in the future for more power? because I would like to speed up the cut a bit so I can start selling lumber to my locals.
Doreen from California : Allan. Thank you very much. I built Procut in 36 hours by taking your suggestion and buying the steel already cut to size. None of my friends thought I could do this (because I am a woman I guess !!) and it came out much better than I thought it would. I cut my first boards the other day with about 15 people at my first cut and I was very nervous. I did what you told me to do and that first log I cut went very smoothly, I cut 8 - 2"x 6", 2 - 2"x 10", and 2 - 2"x 12" and also 1 post and all I can say is wow! I really didn't think they would come out so smooth. Thanks again and come up with some more plans, because this was fun, and my friends were very surprised.
---
From Texas1: Well things are going great here in central Texas, I've only had a few adjustments to make, things are progressing well, I'm about 1/2 way done with the complete mill. I could not stand not trying it so I hooked up some temporary log bunks and cut a small tree I had laying here. IT WORKS GREAT!!!!!!!!!, This is just what I had been looking for, you've got a very satisfied customer. Here's a progress photo for you, Again Thanks a million.